small scale gold mining equipment mineral rock ore gravity separator machine gold shaking shaker
The concentration shaking table, also known as table concentrator, is a kind of gravity beneficiation equipment. The table concentrator uses the action of
mechanical shaking and water flushing to separate the ore particles according to density. On a wide sloping table, the process of separating ore particles according to
density by means of the combined action of mechanical asymmetric reciprocating motion and thin-layer sloping water flushing.
It is one of the most widely used gravity separation methods for sorting fine-grained materials.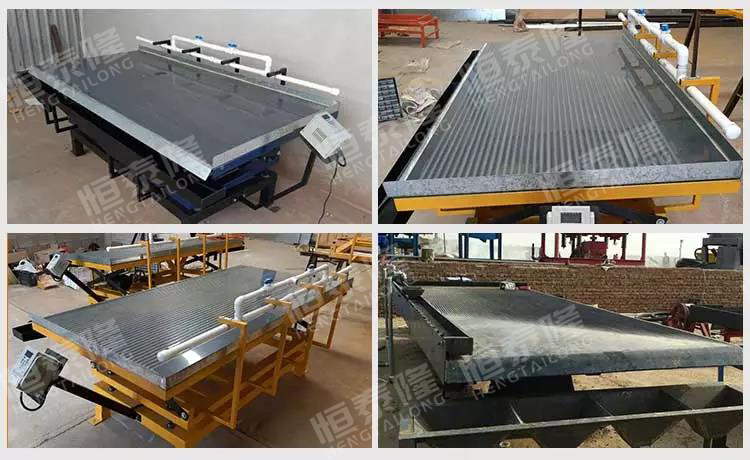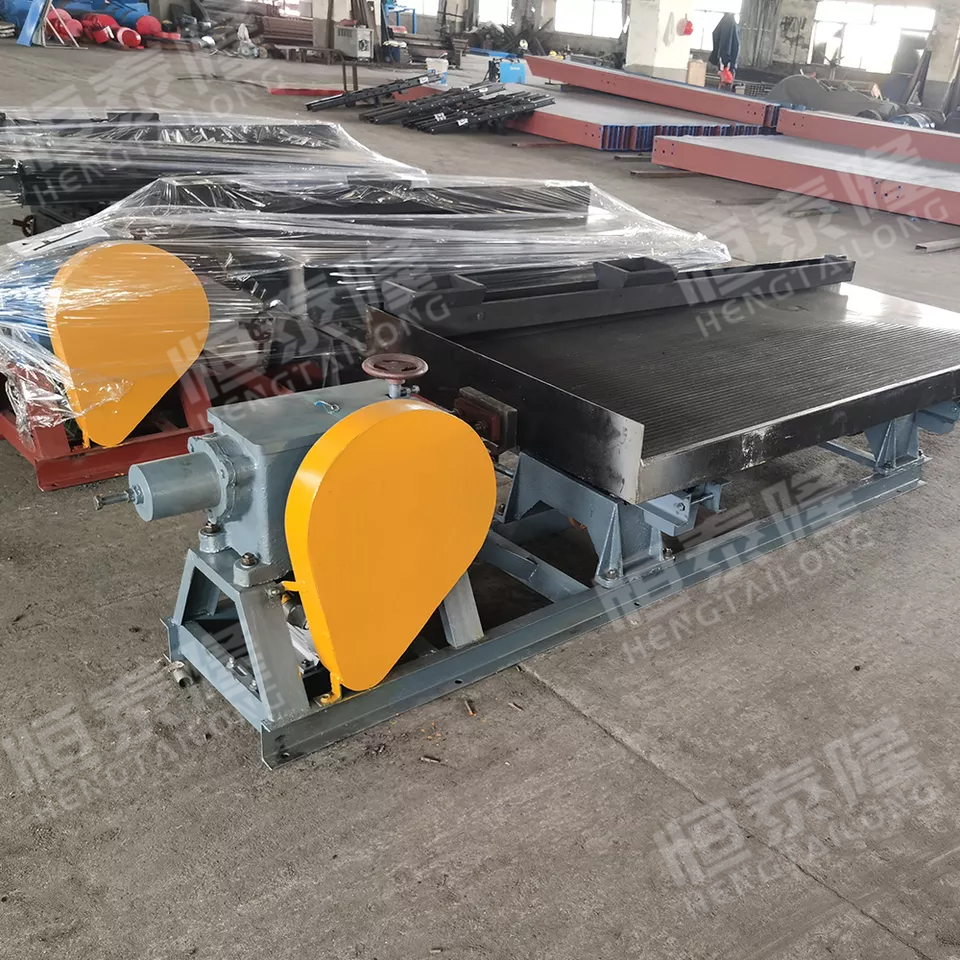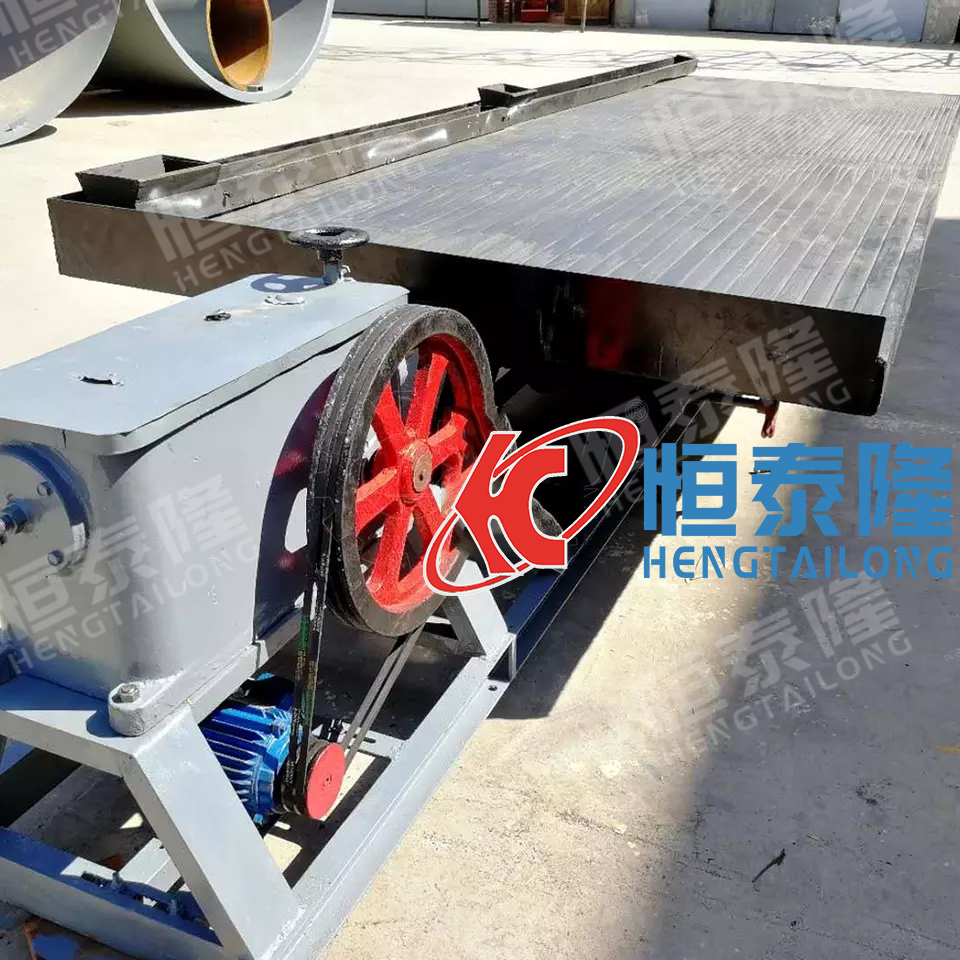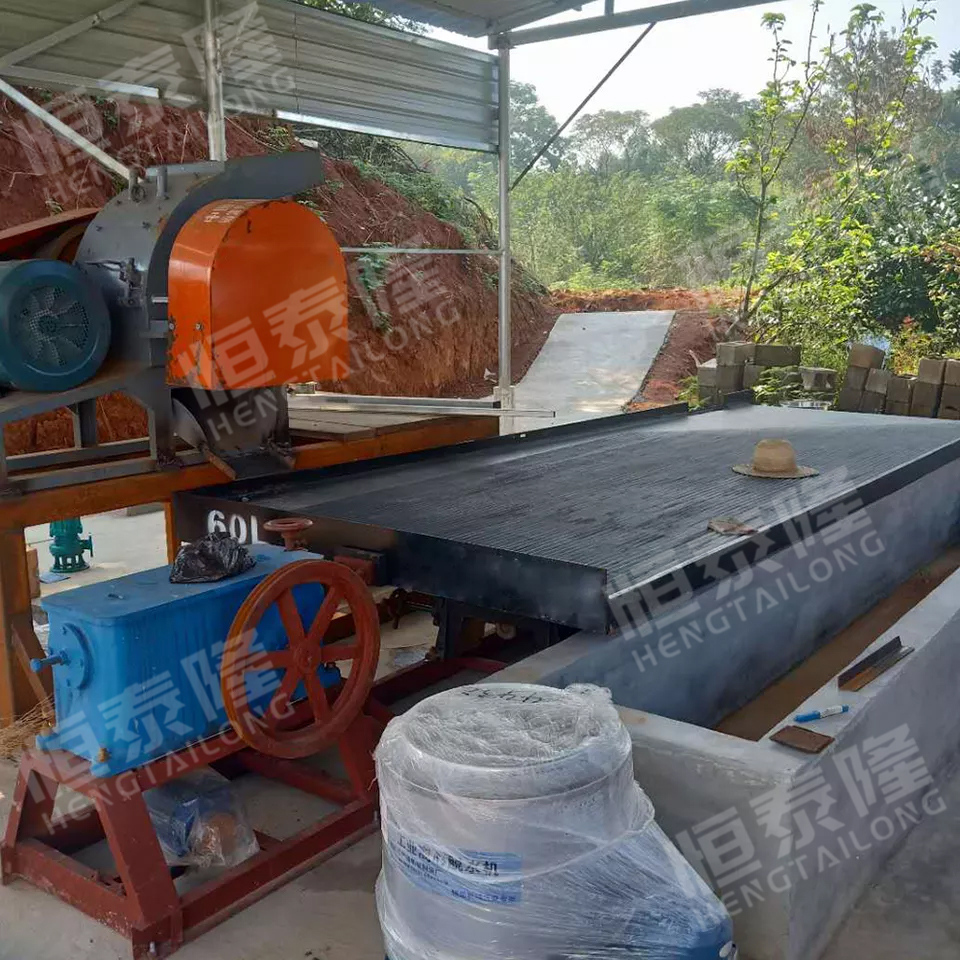 Product Details
1.The rich ore ratio (the ratio between concentrate and raw ore) is far higher than other ordinary beneficiation methods
2.Eligible concentrates and ineligible tailings can be provided at one time.
3.Minerals are in the shape of sector, which makes it easy for observation and adjustment.
4.The partition plate can separate minerals with different properties, so different kinds of minerals can be provided.
5.It consumes no reagent and little electricity.
6.High recovery Ratio and concentration radio
7.Easy installation and simple operation
8.Long working life , Adjustable stroke lenght and speed .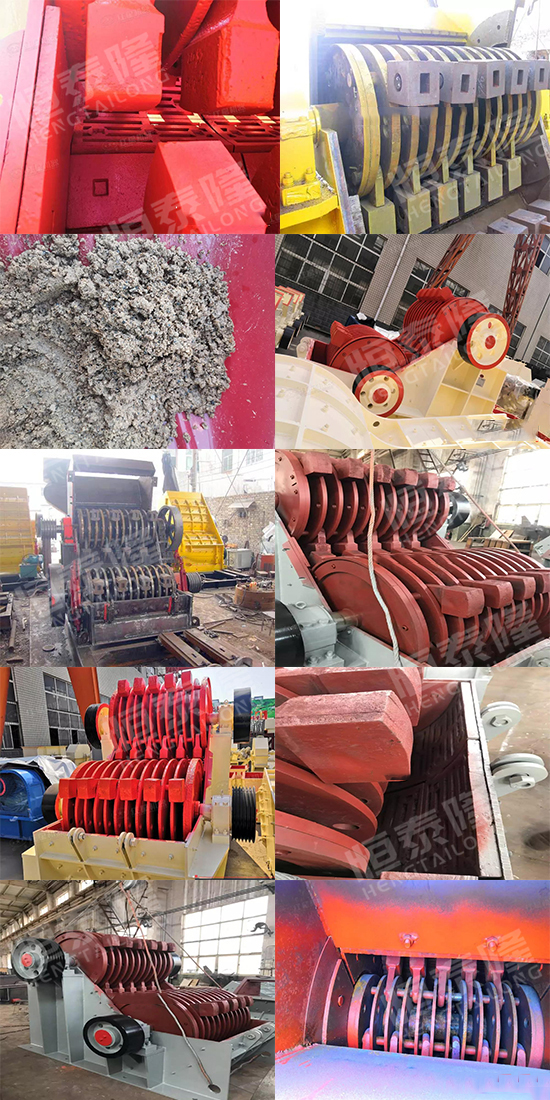 Product Applications
1. Widely used in the selection of gold, copper, tungsten, tin, antimony, antimony, iron, manganese, chromium, titanium, antimony, lead,
and other rare metals and precious metals.
2. Sorting coarse sand (2-0.5mm), fine sand (0.5-0.074mm), slime (0.02-0.074) and other different grades. It can also be used to select iron,
manganese ore and coal. When processing tungsten, tin and other ores.

Working Principle
1>.Electric motor of the shaker drives the belt pulley to drive the crankshaft of the shaker device to move up and down by mean of a belt drive.
When the rocker moves downwards, the mineral material enters through the groove in the inclined table surface of the double bar.
2>.Provide lateral impact water so that one side vibrates while rinsing. Specific gravity and particle size. Minerals with different densities flow out of the
finer ore end of the bed and tailings in different directions,directly forming high quality concentrates due to ore With the replacement of the shaker,
the equipment has greatly improved in terms of throughput and accuracy.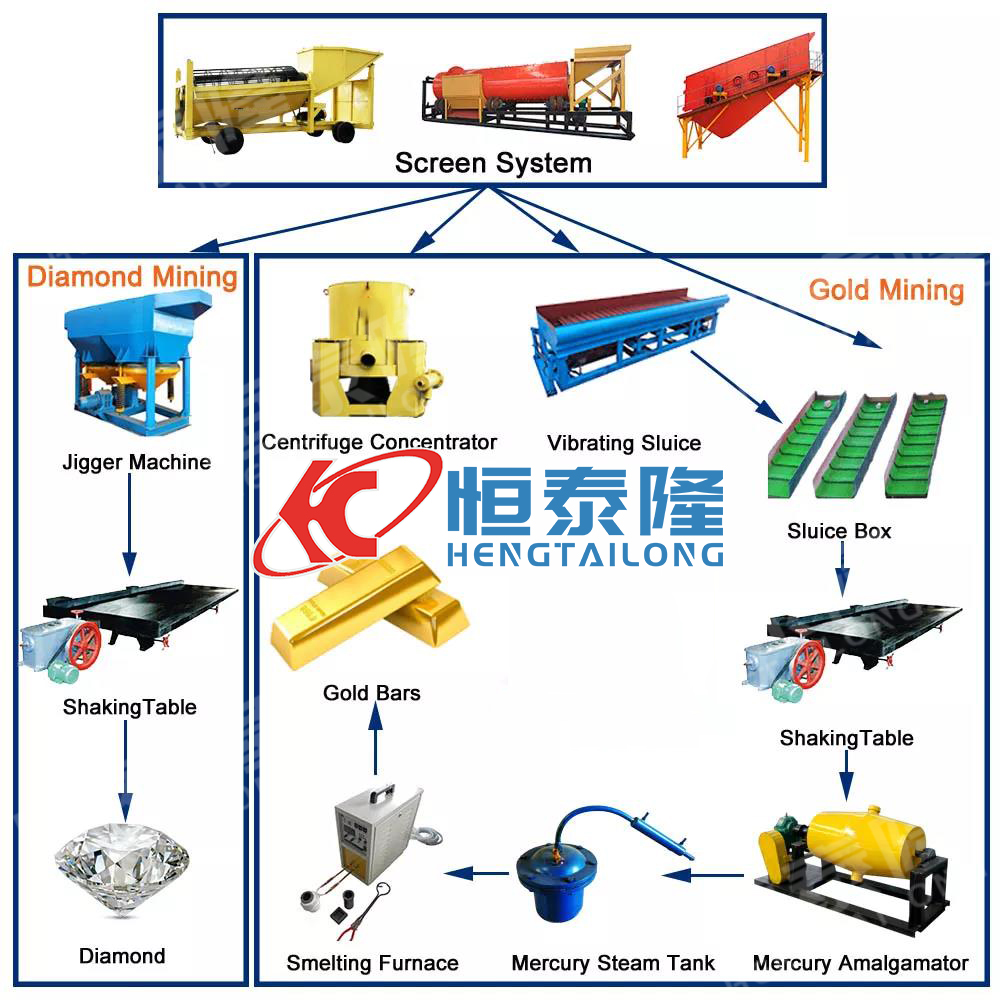 Product Advantage
Our new designed mineral shaking table is with better quality than normal 6s shaking table.
1.Table Desk of Shaking Table Separation:
Made of emery,epoxy resin and fiberglass fabric. first-grade&most wear-resisting Emery can make the table wearproof, long life time.
More thicken fiberglass fabric can support the table more stable and stronger;
2.Feeding chute of Shaking Table Separation:
The chute is made of PP material,wearproof.,the old type is wooden which is more easy to be broken;
3.Collection Chute of Shaking Table Separation:
with PP collection chute can collect the concentrate and middling more conveniently, Old type is iron sheet or without this chute;
4.Electric Motor of Shaking Table Separation:
From China famous motor brand.Also can make Hengtailong brand,customize motor as per request;
5.Channel Frame of shaking table:
#28 big channel frame,50cm more height than normal, so can collect the minerals more conveniently;
6.Bearing of shaker table:
From China famous professional bearing manufacturer, Guaranteed quality, long life time;
7. Steel Plate of Gold shaking table:
Steel material,5 mm thick, more thicker than normal (usually 2-4 mm thick).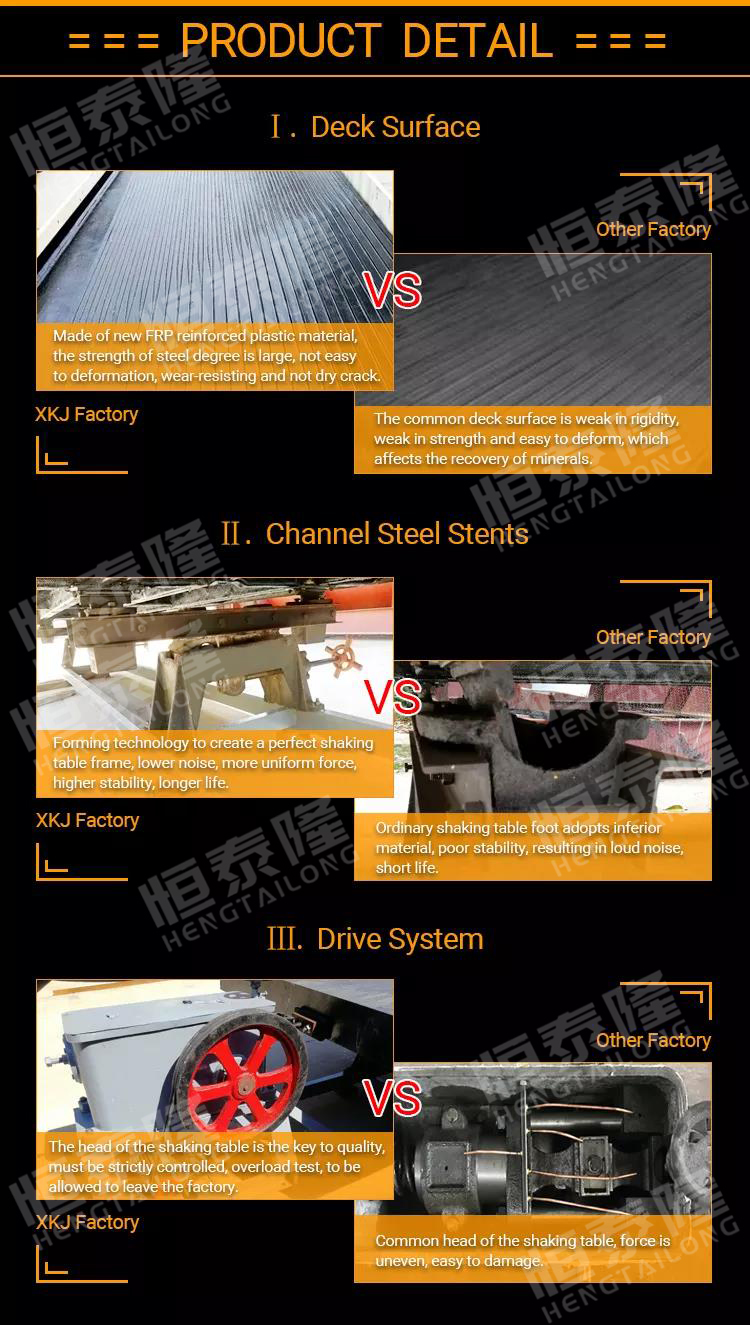 6 Types of Gold Ore
Gold exists in quartzite. Usually, quartz appears as small stones in large cracks in riverbeds or mountain slopes and has crystals in
different colors such as white, yellow, pink, purple, gray, or black. The most common types of quartz with gold ore are rose quartz gold ore and rainbow gold ore.
A high gold-quartz ore contains 25% gold by mass, and it occurs in areas where the bedrock is fractured by tectonic and volcanic activity.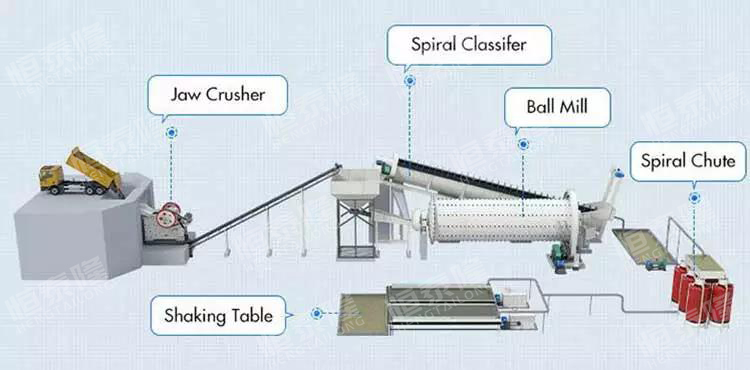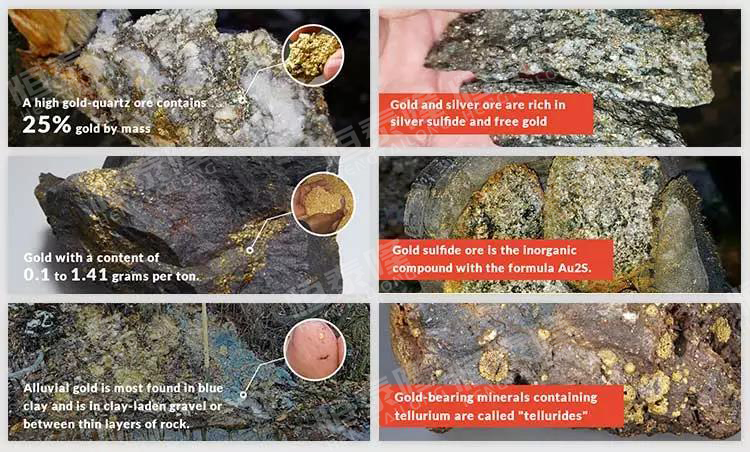 Flow chart of gold ore processing
Placer gold ore with high gold content mostly exists in the form of particles.
Therefore, the ideal method to process placer gold ore is gravity separation.