This dual shearing shredder does not have a screen unit. After material is fed into the hopper,
material is handled using two counter rotating blades,
then directly discharged. Although the output particle size is random, the two shaft shredder features a faster
shredding speed and a higher throughput than other shredders.
The industrial shredder can be custom tailored to suit your material
and requirements to ensure maximum economic and production benefits.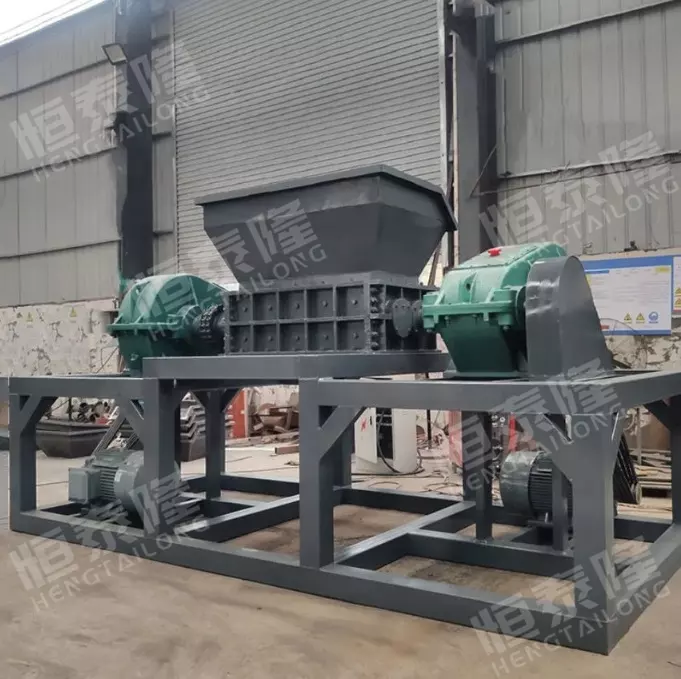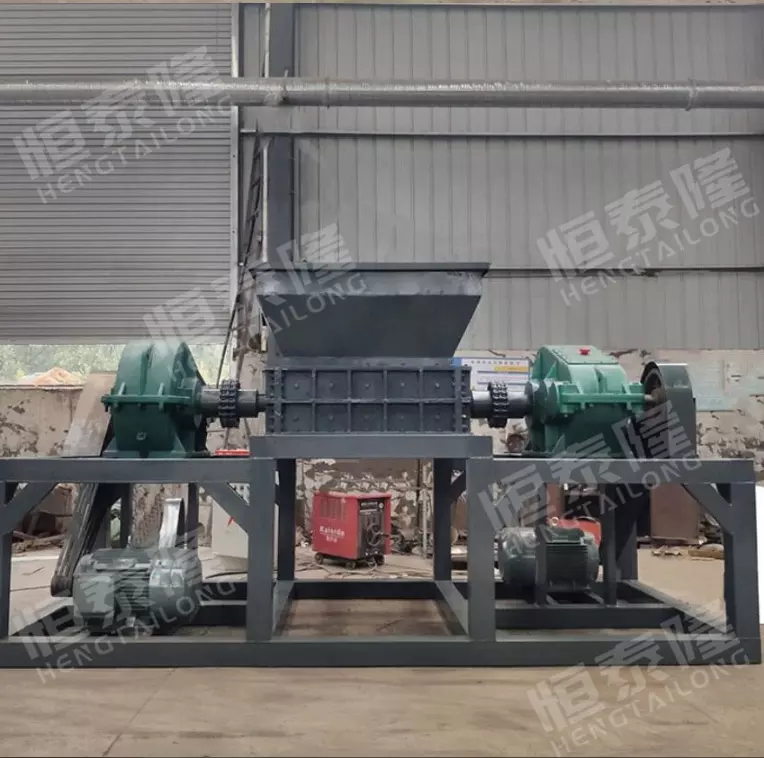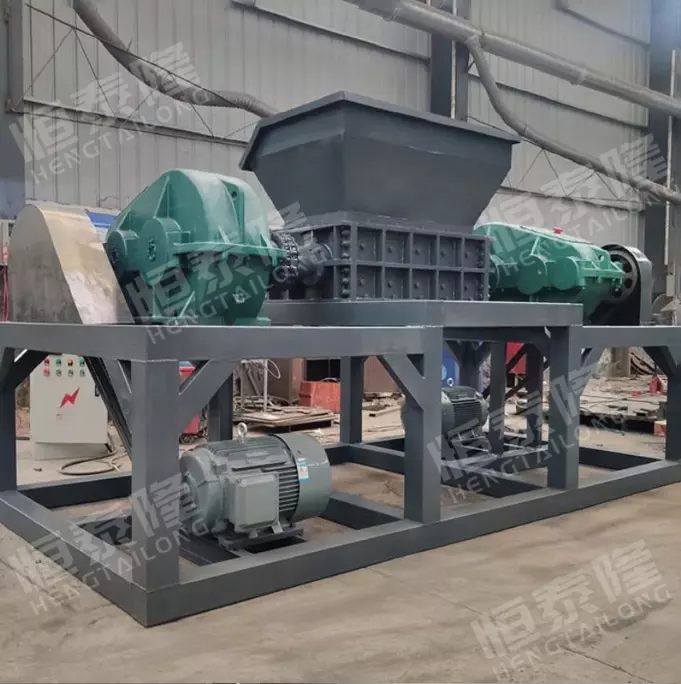 Product Application
1.Metal: aluminum can bundle, steel drum, car shell, color steel tile, bicycle, copper aluminum radiator,
oil filter, scrap wires,cables, aluminum composite plastic panel,
steel wire rope, gas tank, iron scrap, zip-top can, engine case, paint bucket, etc.
2.Plastic: plastic pallet, plastic drum, plastic bucket, plastic film, waste appliances shell, garbage plastic drum,
IBC drum, IBC barrel,garbage bag, rubbish bag, plastic pipe, washing machine, forklift pallet, lead acid battery shell, etc.
3.Textile: scrap clothes, shoes, fishing net, woven bag, ton bag, jumbo bag,
fishing net bundles, dust collector bag, industrial textile waste, etc.
4.Wood: wood mattress, wood furniture, wood pallet, scrap timber,
sawdust chipboard, composite board, wooden door, forklift pallet,
wood board, wood template, wooden case, wooden box, wood sofa, wood bed, etc.
5.Paper: scrap paper and cartons, including scrap books, carton board, carton box,
packaging box, waste newspaper, office paper, printing paper, paperboard, etc.
6.Waste household appliances: TV, washing machine, refrigerator shell etc.
7.Pipes: large pipes, pipe fittings, PE pipes etc.
8.Scrap tires: car tires, truck tires etc.
9.All kinds of Kitchen waste, domestic waste, rdf derivatives, medical waste,garden waste etc.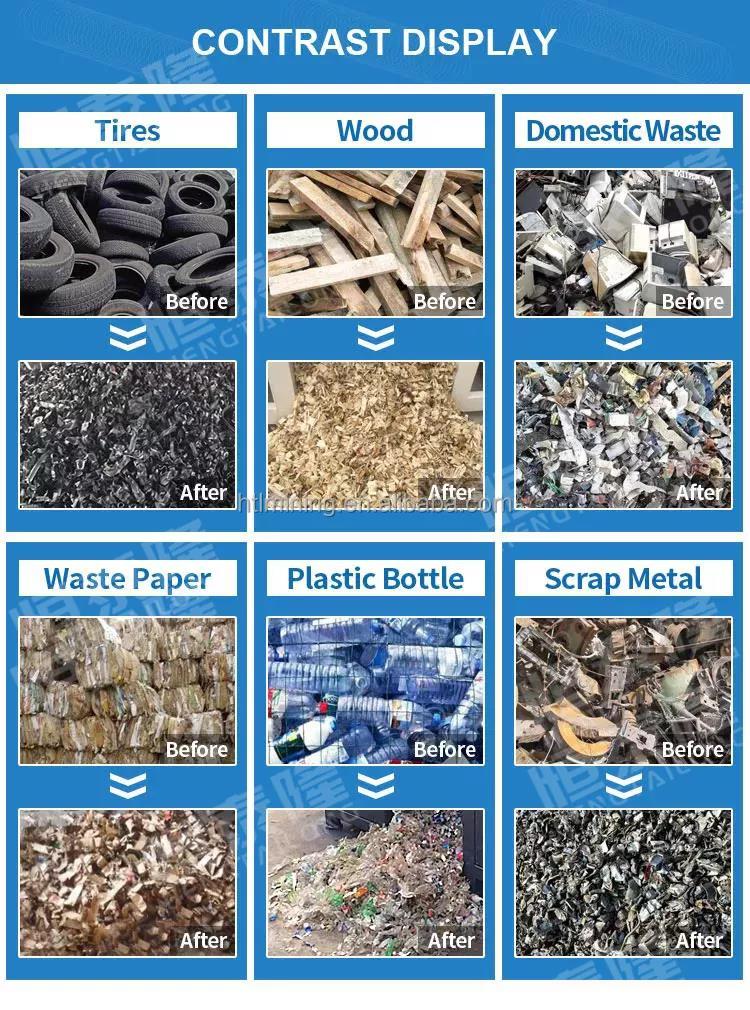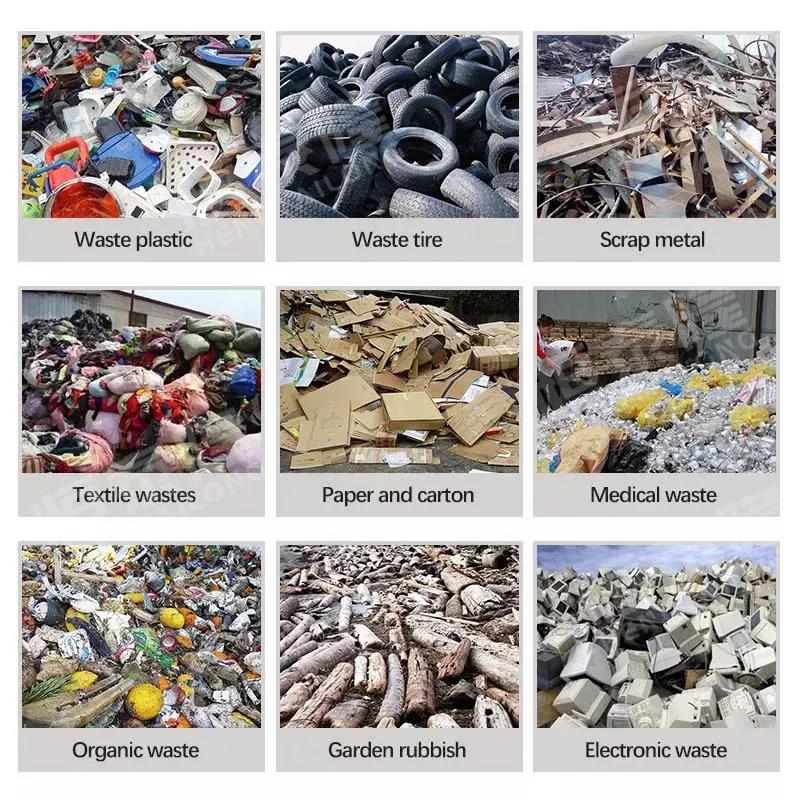 Detailed Images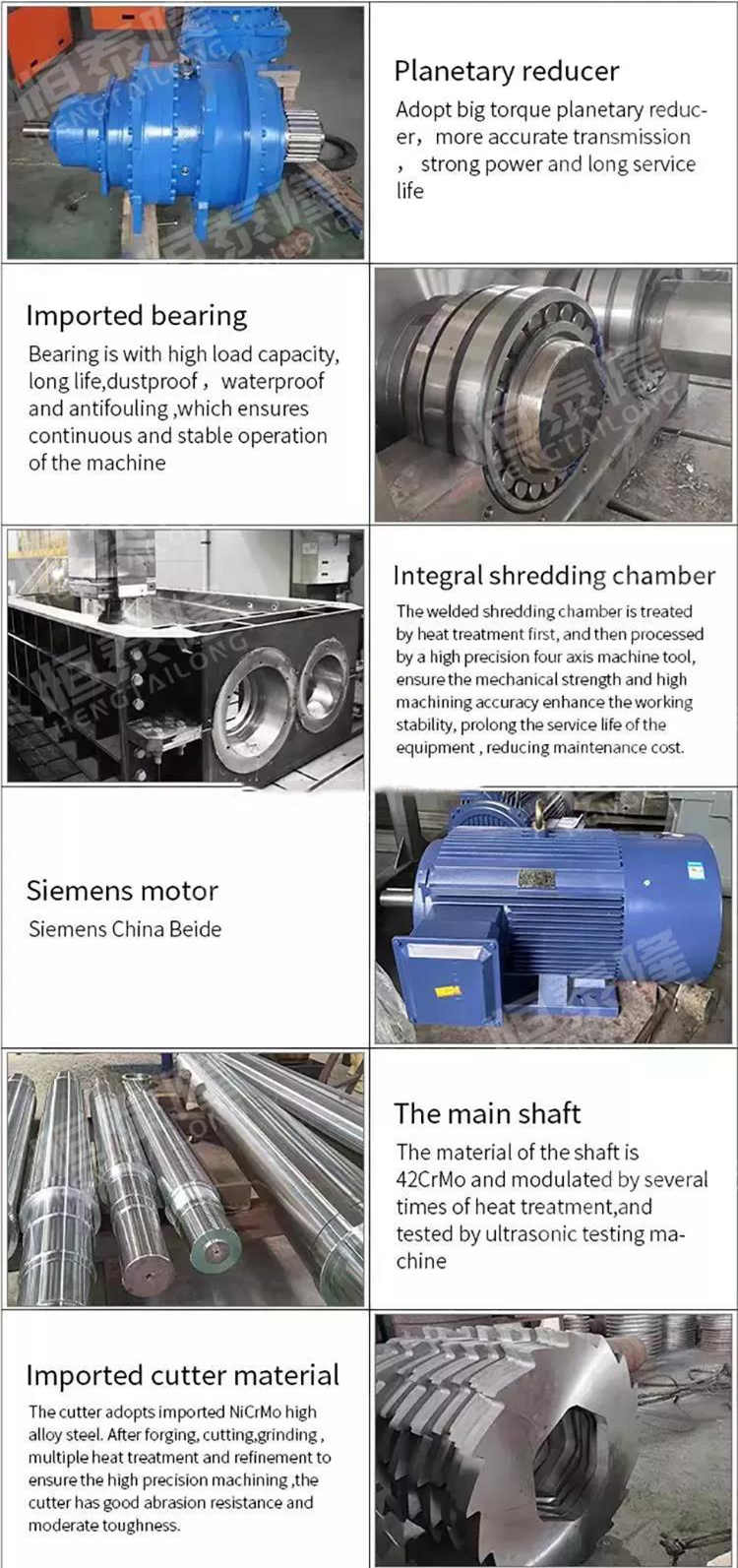 Working Principle
1. Feed Hopper: Put the material to be crushed, so as to prevent the material from splashing out;
2. Double Shaft Cutting System: Using different blades according customers' material;
3. Power System: We choose famous brands of motor in China, can also be configured according to customer needs;
4. Discharging Conveyor System: It adopts independent power system,
and that power system is integrally fixed on the shredder by bolts,
so that the power system can be integrally drawn out.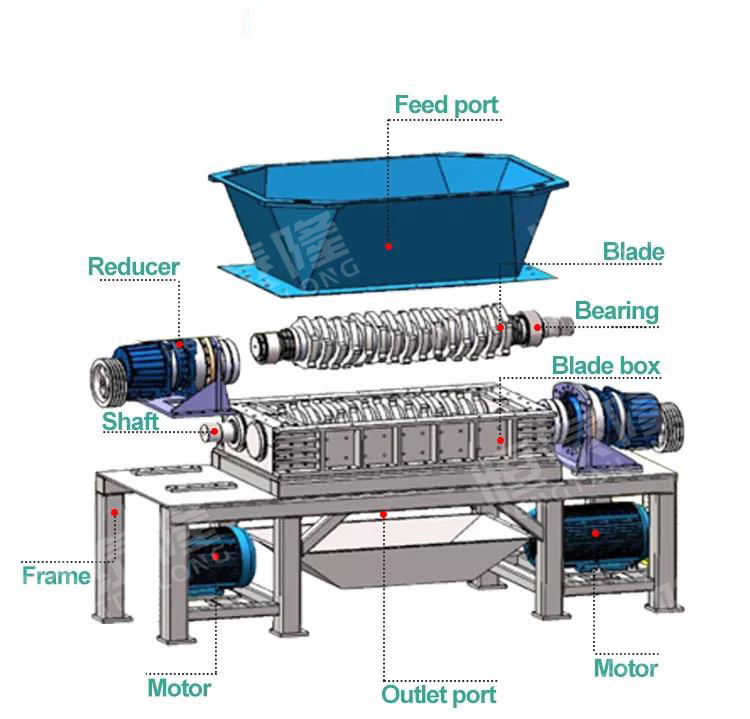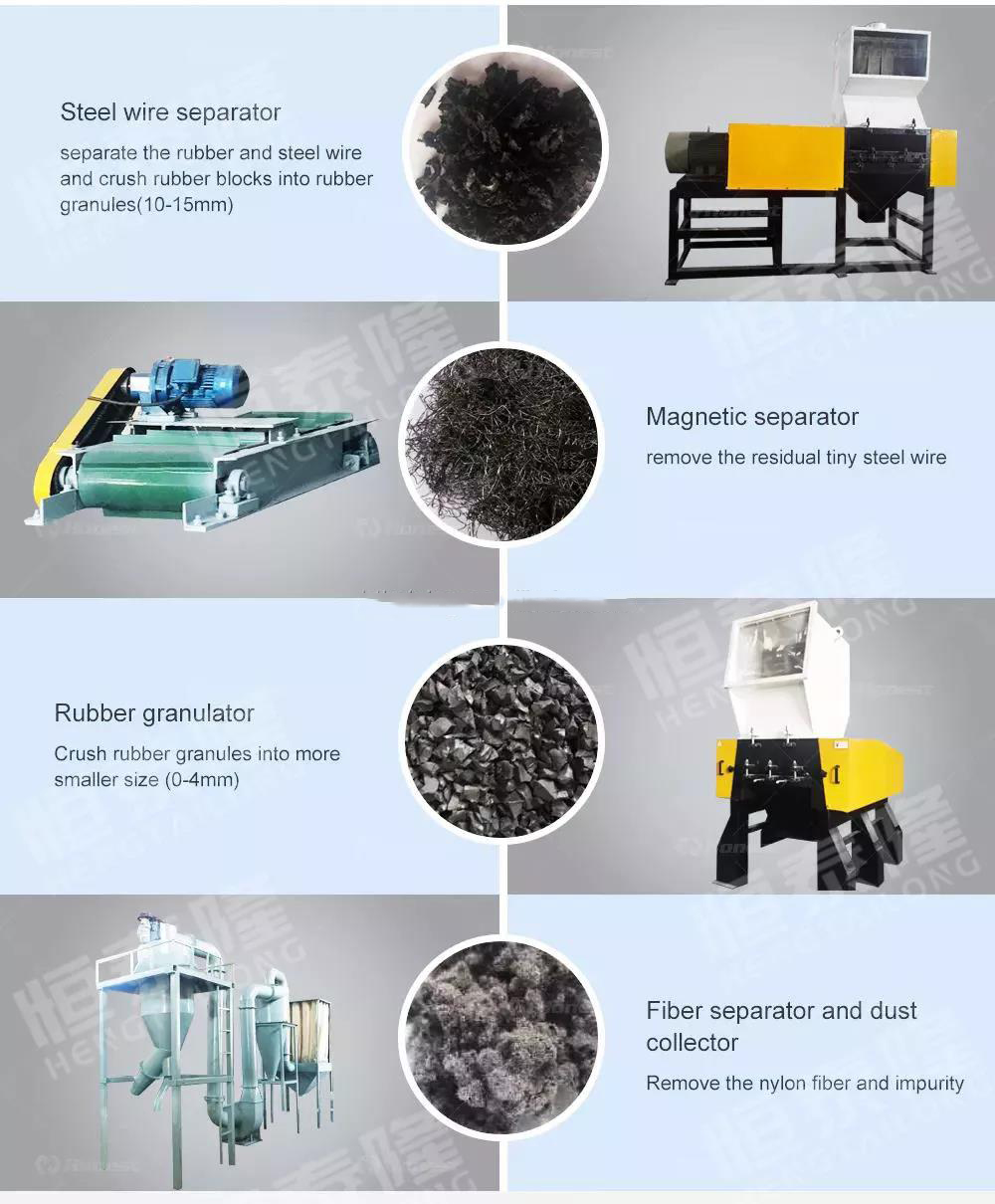 Machine Features
Waste Double Shaft Shredder Shredding Machine is mainly composed of feed hopper, double shaft cutting system,
PLC control system, discharging conveyor system and power system, etc;
1.Blade materials include 9CrSi, Cr12MoV, SKD-II, D2, DC53, etc. It also can be customized.
2.Steel plate of crushing chamber is very thick, so very strong and durable, long service life.
3.We design shredder blades with different thickness for processing different raw materials.
4.The bearing pedestal adopts the split type, easy to maintain and replace the blade.